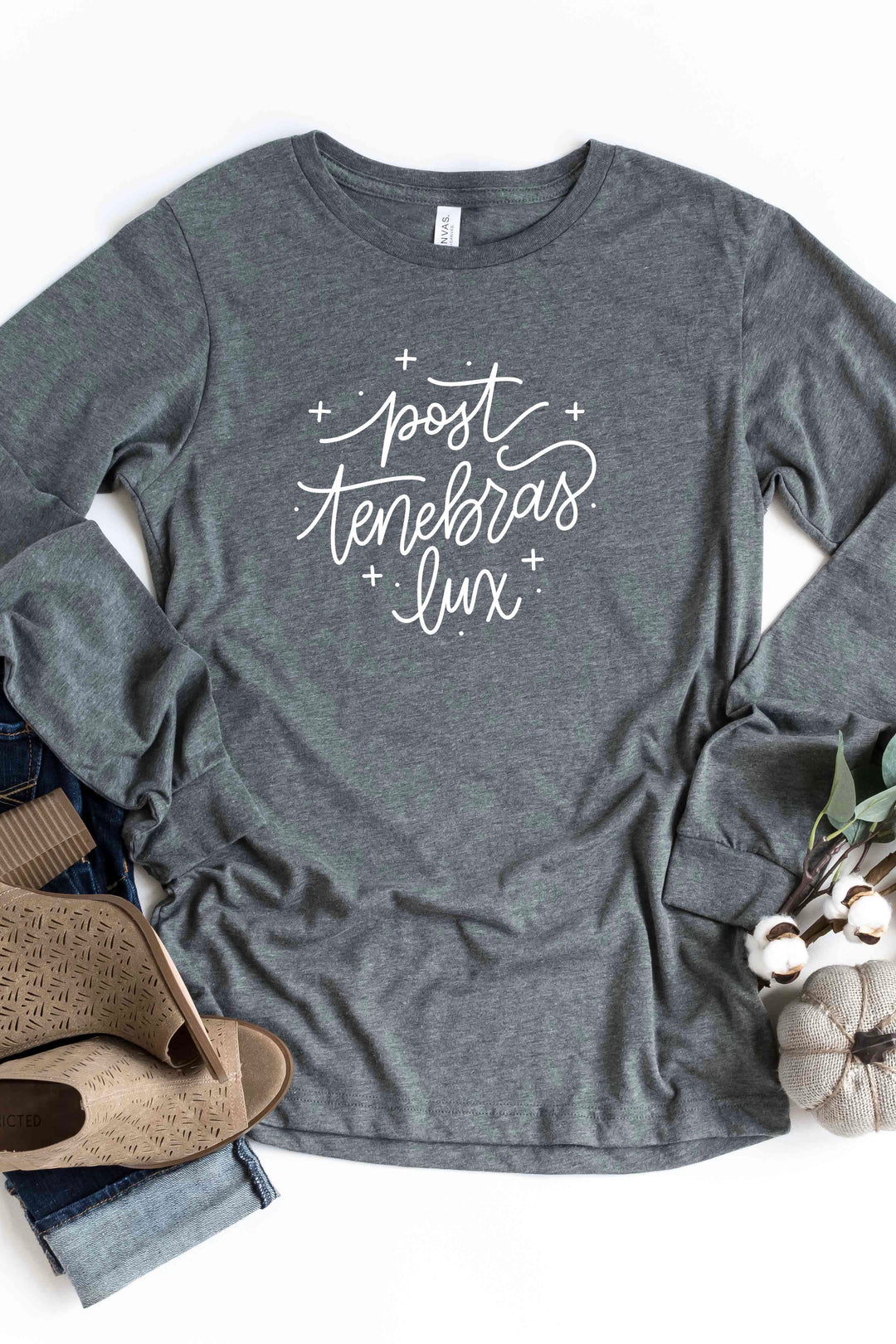 Whimsical "Post Tenebras Lux" Sparkly Long Sleeve Tee
---
"Post tenebras lux" is a phrase in Latin from the Protestant Reformation that means "after darkness, light."
"The phrase 'post tenebras lux', a rallying cry of Protestant Reformers, refers to the rediscovery of biblical truth in a time of spiritual darkness. Because the darkness of heresy and immorality constantly creeps in, the church must always be seeking to rediscover the light."

           —Ligonier
We are in a what seems to be a corporate time of trial in the Church, a forfeiture of truth in exchange for comfort and unbiblically defined "love". Though things appear bleak at times, Scripture tells us how the story ends and who the Victor is—we can fight the good fight knowing that.
Psalm 30:5b
"Weeping may tarry for the night, but joy comes with the morning."
"Weeping may endure for a night; but nights are not for ever. Even in the dreary winter the day star lights his lamp. It seems fit that in our nights the dews of grief should fall. When the Bridegroom's absence makes it dark within, it is meet that the widowed soul should pine for a renewed sight of the Well beloved.
But joy cometh in the morning. When the Sun of Righteousness comes, we wipe our eyes, and joy chases out intruding sorrow. Who would not be joyful that knows Jesus? The first beams of the morning brings us comfort when Jesus is the day dawn, and all believers know it to be so. Mourning only lasts to morning: when the night is gone the gloom shall vanish. This is adduced as a reason for saintly singing, and forcible reason it is; short nights and merry days call for the psaltery and harp."
         —Spurgeon
"Let us hold fast the confession of our hope without wavering, for he who promised is faithful. 24 And let us consider how to stir up one another to love and good works, not neglecting to meet together, as is the habit of some, but encouraging one another, and ball the more as you see the Day drawing near."
Hebrews 10:23-25
©2023 Sola Gratia Co, LLC (Elizabeth Allen)