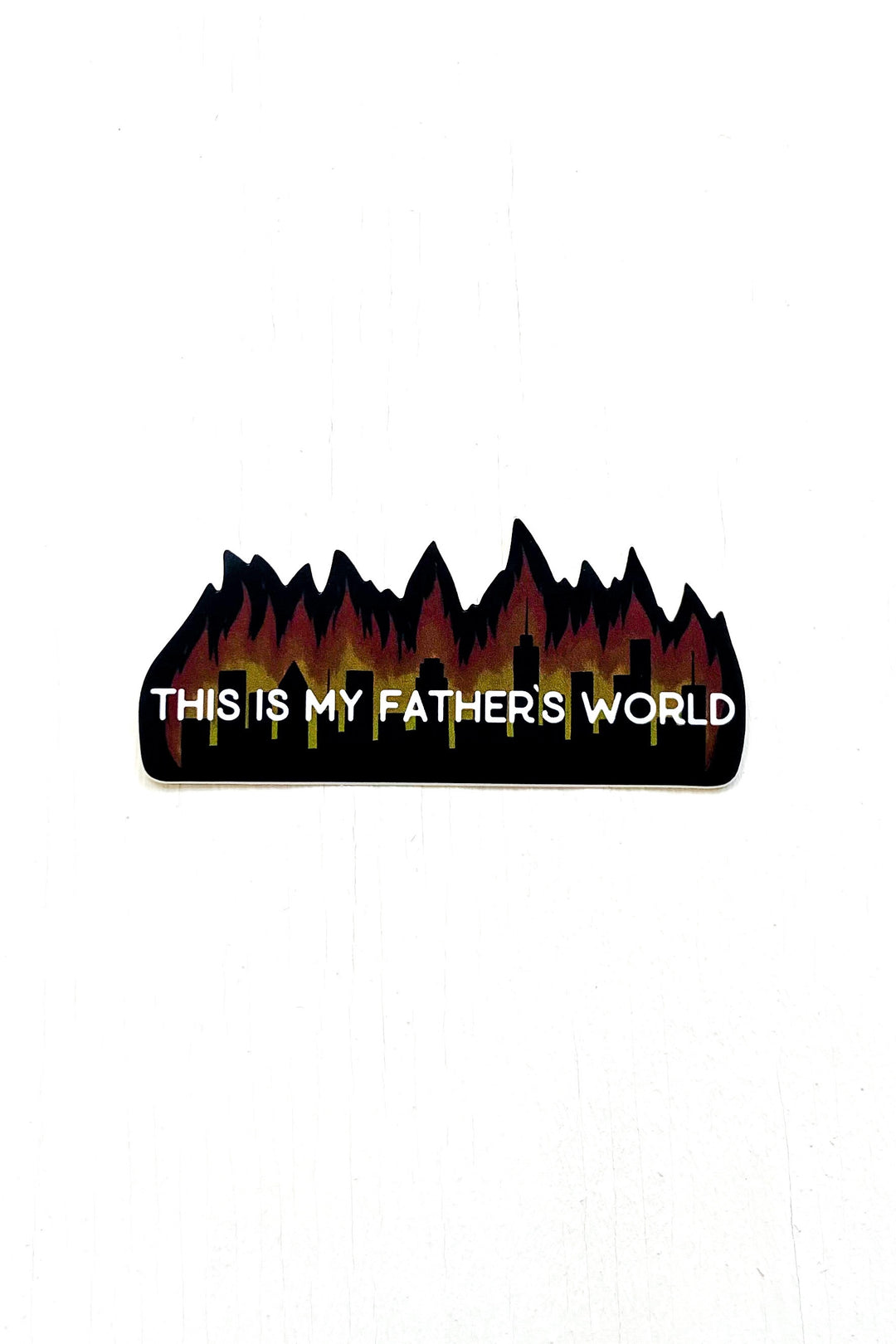 "This is My Father's World" Block Sticker
---
Original design from Sola Gratia Co. made into durable vinyl stickers; scratch, water, and sun resistant.
Also available as part of our Encouragement Week 2022 Sticker Pack #2.  
When we think of these lyrics, "this is my Father's world", we often picture serene meadows and mountains, waterfalls and butterflies. After all, those are the times we are naturally drawn to remember God made and sustains the world as we gaze upon his creation (Ps. 19:1). We see His majesty and His dominion clearly in these times and places.
But what about when the world is burning? When we listen to constant justification of the murder of precious babies, watch image bearers deny their God-given design for gender and sexuality, or receive persecution for upholding truth? When we are worn down and discouraged?
It seems those are the times we most need to remember this is our Father's world. It is. No matter the ways and with what intensity the nations rage—the King is still on His throne. Nothing has changed in those times—the Lord is still sovereign.
From "The Call to Witness" by John Calvin:
"Let us not deceive Jesus Christ in the testimony we owe Him, by stopping our mouths, when it is needful to maintain His honor, and the authority of His gospel. Yea, and when we see our brethren afflicted for the cause of God, let us join with them, and assist them in their affliction. Let us not be shaken by the tempests that arise, but let us always remain constant in our purpose; and stand as witnesses for the Son of God, seeing He is so gracious as to use us in such a good cause…Therefore St. Paul adds, 'Be thou partaker of the afflictions of the gospel.'
There is no man but what would willingly escape affliction; this is according to human nature; and although we confess, without dissembling, that it is a singular grace which God bestows, when He enables men to bear affliction, and maintain His cause, yet there is not one of us, but what would willingly draw his neck out of persecution. For we look not at the lesson given by St. Paul, which saith, the gospel bringeth troubles. Jesus Christ was crucified in His own person, and His doctrine is joined with many miseries."
Psalm 103:19
"The LORD has established his throne in the heavens, and his kingdom rules over all."

Lamentations 3:37-38
"Who has spoken and it came to pass,
    unless the Lord has commanded it?
Is it not from the mouth of the Most High
    that good and bad come?"
©2023 Sola Gratia Co, LLC (Elizabeth Allen)